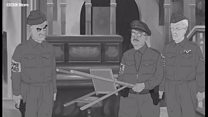 Video
Lost Dad's Army episode remade thanks to Birmingham fan
A lost episode of Dad's Army has been remade in animated form thanks to a Birmingham fan who tape recorded the broadcast.
Fans would have been unable to enjoy the episode, which aired on 29 March 1969, if it was not for BBC WM presenter Ed Doolan's audio. This was then used as a blueprint to create an animated version.
The news coincides with the release of the movie version of the classic BBC comedy.
In the recreated episode, Captain Mainwaring makes Frazer a Lance Corporal but soon regrets doing so.
A Stripe For Frazer will be released exclusively on BBC Store.
Go to next video: Getting nostalgic with Dad's Army cast