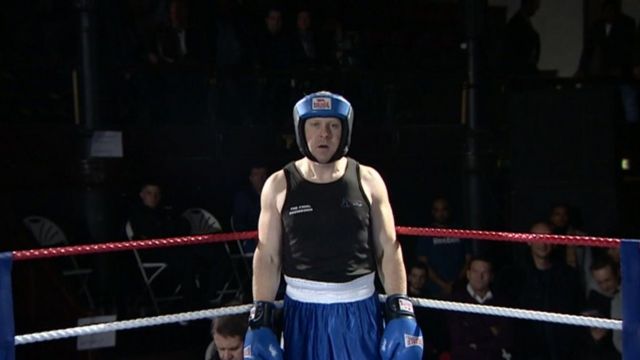 Video
In the ring with the so-called white-collar boxers
With renewed calls for so-called white-collar boxing to be banned, why did this 42-year-old company director go into the ring?
Richard Love, from Abbots Bromley in Staffordshire, said he didn't like golf and he hadn't played rugby for a long time.
"This seemed like something good to do," said Mr Love, who collected sponsors for MacMillan Cancer Support .
White-collar boxing is unlicensed. The British Board of Control, which regulates professional fighters, said both they and the Amateur Boxing Association would like to ban white-collar boxing.
They said the sport, which rose to prominence with the release of 1999 film Fight Club starring Brad Pitt and Edward Norton, was inherently dangerous.
But Mr Love, who runs a recruitment firm, was happy to talk about his new-found hobby.
He underwent intensive training at Fighting Fit City Gym in Birmingham's Jewellery Quarter.
Neil Perkins, who runs the gym, said he would support more regulation around the sport.
Two paramedics carrying out medical checks on every fighter, including Mr Love, before and after they went into the ring.