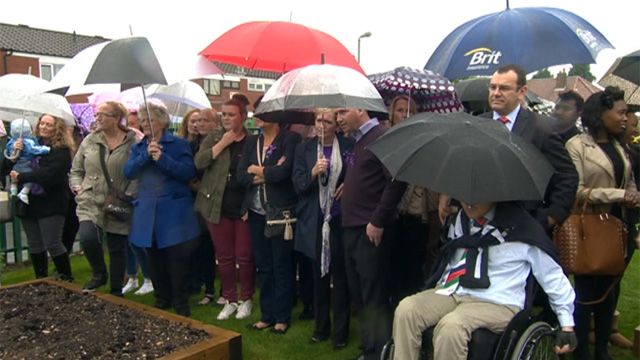 Video
Memorial garden for Christina Edkins
A memorial garden has been opened at the former school of Christina Edkins, who was stabbed in a random attack in Birmingham in March.
The 16-year-old was killed on a bus as she made her way to Leasowes High School in Halesowen.
Rugby international Phil Vickery officially opened the garden at her former school St Edmund's Catholic Primary in Spring Hill on Thursday.
He said the memorial would be a lasting legacy to the teenager.
Christina's parents were at the school for the opening, a day after Phillip Simelane, 23, was detained under the Mental Health Act after admitting her manslaughter.
Mary O'Friel, head teacher at St Edmunds, said the garden was the perfect way to remember Christina.
Young people from Birmingham took part in a debate on the problems of knife crime in the city, in the wake of recent stabbings.
Heather-Michaela Farrell, a friend of Joshua Ribera, who was stabbed to death in September, said more needed to be done to tackle the issue.
One friend of Christina Edkins, Jon Horne, said some young people carried knives almost as status symbols.