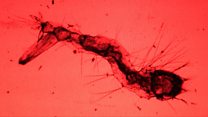 Video
'Mosquito plastic pollution' revealed in Reading University study
Waste plastic polluting rivers and streams could be finding its way into the stomachs of animals living on land, according to a new study.
Researchers at the University of Reading found mosquito larvae in the water can ingest tiny plastic particles which remain in their bodies after transforming into adults and becoming airborne.
The study has highlighted a new route for plastic to enter the animal food chain.
Professor Amanda Callaghan, biological scientist and lead author of the study, said: "Much recent attention has been given to the plastics polluting our oceans, but this research reveals it is also in our skies."
Go to next video: Why is plastic a problem?