Media player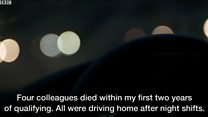 Media playback is unsupported on your device
Video
Doctors 'fall asleep driving' after punishing night shifts, the BBC learns.
More than four in 10 junior doctors have fallen asleep at the wheel after driving home from a night shift, research shows.
In a poll of 1,100 junior doctors, 41% said they had nodded off on their way home, BBC Inside Out South found.
One junior doctor from Oxford, Sam Jayaweera, said she once found herself on the opposite side of the road while driving home.
Another woman died while driving home after her first night shift.
You can find out more at 19:30 GMT on BBC One with Inside Out.