Media player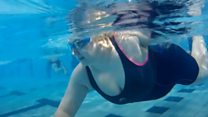 Media playback is unsupported on your device
Video
Fewer people are swimming in Berkshire, in line with a national trend.
The number of people swimming in Berkshire has dramatically fallen over the last decade.
Since 2006, 19,000 people have stopped swimming at least once a week, a fall of more than a third, one of the biggest drops in the country.
It is part of a national trend, as across England, swimming has fallen by 24%.
BBC News has been to Reading to meet Olympic swimmer David Wilkie.