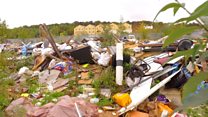 Video
Luton Town: Potential stadium site to be cleared
Fly-tipping on Luton Town's potential new stadium site is soon to be cleared, the club says.
Luton Borough Council says the estimated 500 tonnes of rubbish was left by an "encampment of travellers" who used the site "on a commercial scale as an unofficial waste tip".
A Luton Town Football Club spokesman said: "We have commissioned contractors to start the clearance of the rubbish this week.
"As land owners, we accept some of the responsibility and apologise for the delay in removing this unsightly mess."
The club identified the Power Court site, near the railway station, as the ideal location for a new stadium in December 2015. The planning application remains with the council.