Media player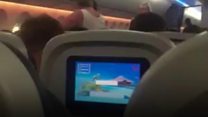 Media playback is unsupported on your device
Video
'Jihadist Cell London' wi-fi scare grounds Thomson airline flight
A flight returning to the UK was delayed because a passenger named their personal wi-fi "Jihadist Cell London 1".
The Thomson airline flight was due to fly back from Cancun in Mexico to Gatwick Airport on Tuesday.
Some people refused to stay on board as the passenger did not come forward when asked to do so by the pilot, so the flight missed its slot.
A spokesman for the Luton-based company said a full security check was taken, all passengers were sent to a hotel and arrangements were made to return the passengers home as quickly as possible.