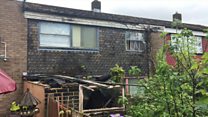 Video
Stevenage residents in derelict house row
Residents on a Stevenage street are urging the authorities to do something about a derelict house that has become infested with vermin and is making their lives a misery.
People on Archer Road say rats and mice have spread to their homes and the property has also had problems with squatters.
In 2014 Stevenage Borough Council obtained a compulsory purchase order for the house, but last week the High Court overturned it as the owner's depression was not taken into account.
William Dennehy, who receives disability benefits, told the court he would struggle to improve his property - deemed in a "poor state of repair" and "far from functionally habitable" by a planning inspector - quickly.
The court found an "error in law" in the council's bid to force the 63-year-old to sell, but said it could restart the process giving due consideration to his disability.