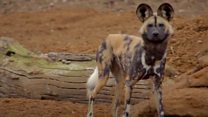 Video
Five African hunting dogs introduced to new Bedfordshire home
Five endangered African hunting dogs have moved in to a new home.
The five sisters have a new purpose built enclosure, complete with new toys, at ZSL Whipsnade Zoo, near Dunstable, Bedfordshire.
Also known as painted dogs, the animals are famed for their larger ears, sociable nature and incredible stamina that makes them one of the most successful predators in the world.
Prof Rosie Woodroffe, the Zoological Society of London's senior research fellow, said: "We estimate that fewer than 700 packs of African hunting dogs remain in the wild, making them one of the world's most endangered carnivores."
The WWF said the dog was one of the "world's most endangered mammals".