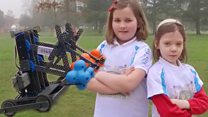 Video
Robot making schoolgirls set for world championships
Two schoolgirls have qualified for the robotics world championship in the US with a robot they designed and built themselves.
Emily Duffy, nine, and Beth Thomas, eight, from Welwyn Garden City, will be taking Roy the robot to Kentucky after qualifying at the UK National Championship.
The girls will be representing the UK at the VEX Robotics World Championships and are among the youngest of the 500 teams taking part.
The Hertfordshire pair started building robots in late 2015 after Emily became interested in her dad's robot.
They have won numerous competitions in the last 18 months.
The girls' parents are now looking to raise sponsorship money so that the girls can make the transatlantic trip.