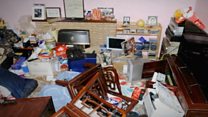 Video
Hang Yin Leung murder inquiry: Footage of ransacked home released
Police have released body cam footage of the moments after a 64-year-old woman was attacked and robbed in her home.
Hang Yin Leung died days after being knocked over and held down after she opened her door to six men who pushed into her home and stole cash, jewellery and her Hong Kong police long service medal.
It happened at about 18:00 GMT on 31 January at Orne Gardens, in Milton Keynes.
She died in hospital on 11 February as a result of the injuries she received in the assault. Thames Valley Police are treating her death as murder.
Two men have been arrested and bailed on suspicion of murder in connection with the investigation.