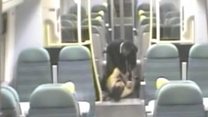 Video
Student jailed for attacking a man who said train had reached 'end of the line'
A student has been jailed for attacking a man who woke him and mistakenly said their train was approaching its last stop.
Sam Pearce, 24, of Audley Court, Rickmansworth Road, Pinner, was woken by Benjamin Kerr on the Thameslink line on 17 June 2015.
Mr Kerr told St Albans Crown Court he had fallen asleep on the journey out of London and when he woke up he mistakenly told Pearce they had reached the "end of the line" at Bedford Station.
The train was in fact pulling in to St Albans City train station, so Mr Kerr went to find another seat for the rest of the journey.
A short while later, Pearce approached Mr Kerr and accused him of trying to make him get off at the wrong stop.
Mr Kerr said Pearce's tone was "aggressive" and he felt "intimidated" so went to move out of his seat.
It was at this point that he was attacked. Pearce punched him, pinned him to the floor and dragged him off the train at Luton Airport Parkway.
Pearce, who said he acted in self-defence, was jailed for one year and ordered to pay a victim surcharge of £100.