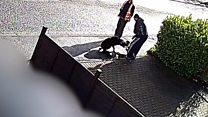 Video
Pet dog mauled to death outside Milton Keynes home
An elderly couple left devastated after witnessing their Yorkshire terrier being mauled to death outside their home have said they wanted to highlight the dangers of dogs being let off leads.
Ron, 75, and his wife Valerie, 72, from Milton Keynes, were taking their four terriers out for a walk on Saturday morning in Oldbrook when the black "Alsatian-type" dog attacked.
Their smallest dog, Lacey, suffered internal injuries and broken legs. She was put down at a veterinary surgery later that afternoon.
The couple, who did not want to give their surname, have released CCTV footage of the attack to publicise the danger to small dogs of large dogs being off the lead.
We have edited the footage to take out the most distressing scenes but some viewers may find the video upsetting.