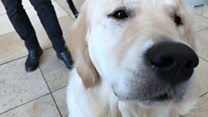 Video
Assistance dog charity needs volunteers to help with puppies
A charity that trains assistance dogs to support people with disabilities is appealing for volunteers to help look after puppies.
Dogs for Good puppy socialisers have been speaking to people in Milton Keynes this week about what they do to encourage others to get involved.
Puppy socialisers give pups basic obedience training and introduce them to a variety of different environments to build their confidence.
A dog is placed with their socialiser from seven weeks old until 16 months, when they go on to assistance dog training.
"Watching them work and watching the bonds grow between [assistance dogs and their client] is brilliant," says Yasmin Smyth, from Woburn Sands, who has been a puppy socialiser for 11 years.