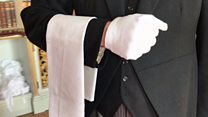 Video
Children learn what it takes to run a country home
Children have been discovering how hard servants had to work to run a stately home.
Butler School at Wrest Park in Silsoe, Bedfordshire teaches pupils about the history and hierarchy of servants.
Children were shown how to serve drinks and canapés at parties and the correct way to lay a table.
Georgina Harris from English Heritage said: "Wrest Park has a long history as being a magnificent stately home.
"[It was the] home of the de Grey family and obviously they would have had lots of servants, lots of butlers, so it's quite fitting."
One of the children taking part said: "I've learnt that being a butler isn't that easy."