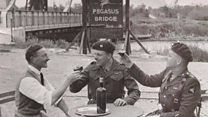 Video
Tributes to D-Day hero who 'lied about age to join Army'
Tributes have been paid to a Buckinghamshire man who lied about his age to join the Army.
Paratrooper Denis Colin Cruse, 90, took part in the famous Pegasus Bridge operation on D-Day and was awarded the Legion D'Honneur in 2016.
His son said Denis, who lived in Buckingham, had described vivid memories of depression and poverty in his home county of Yorkshire when World War Two broke out in 1939.
"Prospects for young men at that time were pretty grim," Colin Cruse said.
"When he was 15, he lied about his age. He saw his way of improving his life by getting out of Harrogate and joining the army."
His funeral took place at St Peter and St Paul's church, in Buckingham, where Army Cadets lined the streets and a bugler played the last post.