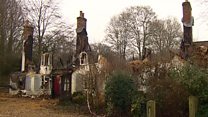 Video
Family left 'overwhelmed' by community help after house fire
A family, whose thatched cottage burnt down days after they moved in, say they've been overwhelmed by the support of the local community.
Paul and Sophie Purdy are now homeless and staying with family in Norfolk.
The couple had only just moved into the 400-year-old cottage in Great Hormead, near Buntingford, in Hertfordshire, during a freezing cold week in November.
On 1 December, they wanted to warm the house up and lit the wood-burner for the first time.
Shortly afterwards they noticed smoke in the garden and saw that the roof had caught fire.
Ten fire engines were called and local farmers brought down tanks of water.
The family want to thank their new neighbours for all the support they have given them.