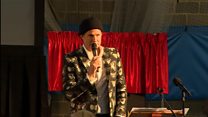 Video
Red Hot Chili Peppers drummer opens Sandy school's music centre
A school in Bedfordshire has welcomed a world-renowned drummer to open its state-of-the-art music facility.
Chad Smith from the Red Hot Chili Peppers opened the music suite at Sandy Upper School on Monday.
Over the past four years, the school has gone from an "unacceptable standard" to being rated as "good" by Ofsted at its last inspection.
Of the music centre, Smith said: "This is a public school in a small town, this is awesome."
The Lane & Browns Music Suite features its own recording studio and practice rooms.
It is hoped it will provide creative opportunities for students of music, dance and performing arts, as well as for those with an interest in sound production.
Karen Hayward, school principal, said: "We have worked very hard over the last couple of years and our vision is to create a school worthy of an 'outstanding' rating.
"The provision of facilities that will enable our students to excel in their chosen subjects will help us achieve that."