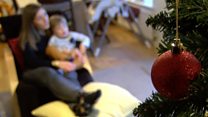 Video
Hertfordshire mum spends second Christmas waiting for a new liver
A mother who has waited for a year and a half for a liver transplant said she hopes a donor comes forward this Christmas.
Sarah Barker, 33, from Royston, Hertfordshire, was born with a childhood disease of the liver called Biliary Atresia.
The average waiting time for a liver transplant is five months. This will be her second festive season waiting for a donor.
She urged more people to become organ donors.
She said: "I would like to urge all those people who wouldn't mind their organs being used to sign up to the organ donor register.
"But more importantly, talk to their families and make sure their families know their wishes.
"They need to understand what you would've wanted."