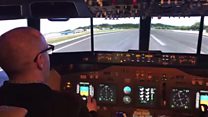 Video
Leighton Buzzard pilot's Boeing 737 simulator in garage
Professional pilots and amateur beginners have been given the experience of flying a Boeing 737 - from a man's garage.
Private pilot Mark Lowen, who has 20 years' experience of flying, set up Fly a Flight Ltd at his Leighton Buzzard home.
The flight simulator is a fixed-base Boeing 737 to scale, running full commercial software and hardware for the novice.
It can "fly" from any airport worldwide in any weather day or night.
Mr Lowen said: "We have many various scenarios available for all levels of ability.
"You do not need any previous flying experience to be able to take part."