Media player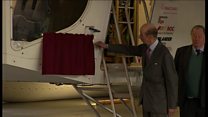 Media playback is unsupported on your device
Video
Hybrid Air Vehicles Airlander 10 named Martha Gwyn
The longest aircraft in the world has been officially named in a royal ceremony as "The Martha Gwyn" at Cardington Hangars, Bedfordshire.
The Airlander 10 is 92m (301ft) long, cost £25m and took nearly 10 years to build. The project captured people's imagination, raising £500,000 through public donations in less than 10 hours.
Airships were first built at Cardington in the 1920s.
Hybrid Air Vehicles said the Airlander was the first of a new generation of airships to be built there and was filled with helium with diesel engines.
Go to next video: World's 'biggest' aircraft officially unveiled