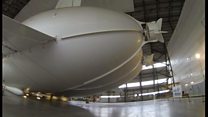 Video
Airlander 10: World's 'biggest' aircraft unveiled after being fully assembled in the UK
The world's "biggest" aircraft has been unveiled and floated in a huge hangar for the first time since its assembly in the UK.
The Airlander 10 was developed for the US military, but was brought back to the UK by British firm Hybrid Air Vehicles following a campaign.
It was floated in a giant hangar in Cardington, Bedfordshire, and will take part in ground tests before 200 hours of test flights begin later this year.
Photographers struggled to capture the whole length of the aircraft, which is around 50ft (15m) longer than the biggest passenger jets.
"For the people on board and the people down below it's going to look quite a sight," said chief test pilot David Burns.