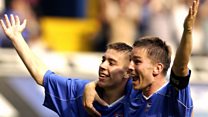 Video
Tributes paid to former Ipswich Town commentator Bryan Knights
Tributes have been paid to a sports broadcaster who died at the age of 72 following a long illness.
Bryan Knights, who died on Monday at Ipswich Hospital, worked for BBC Radio Suffolk, Radio Orwell and as an announcer at Ipswich Town Football Club.
Former Town player and director of Academy sales Simon Milton said: "Bryan was Mr Ipswich. He was fanatical about the club."
BBC Suffolk editor Peter Cook said: "He was a legend of a broadcaster.
"Many Town fans will have grown up listening to his commentaries and he really was the voice of Ipswich Town for season after season.
"Away from the microphone Bryan was a warm, kind man with a smile for everyone. We'll miss him terribly."
Mr Knights also worked as a headmaster at Murrayfield Primary in Ipswich.