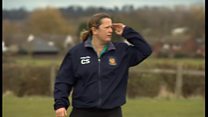 Video
Hitchin Town Ladies' manager speaks out on homophobia
A football manager and referee has spoken out about the abuse she has been subjected to in a bid to tackle the issue of homophobia in sport.
Mel Harrington-Smith, manager of Hitchin Town Ladies, said she had been verbally abused after sending someone off while refereeing a men's game.
"He didn't like the decision so he started throwing abuse at me about my sexuality," she said.
Football clubs in Hertfordshire are taking a stand against homophobia as part of Lesbian, Gay, Bisexual and Transgender (LGBT) History Month.
Hertfordshire Police said homophobia had been "historically prevalent in the game both on the stands and on the pitch".