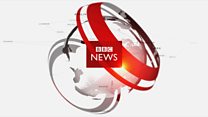 Video
Hammer-wielding moped gang thwarted by lorry driver
A gang wielding hammers has been prevented from stealing mopeds by a lorry driver.
The driver parked his lorry in front of the mopeds being targeted to prevent the thieves from driving off with them.
Footage from Fitzroy Street in central London at about 10:00 GMT on Thursday shows the suspects becoming increasingly frustrated as the lorry stops and refuses to move.
One suspect is seen waving a hammer at the lorry driver, before the gang give up and drive off on their own mopeds.
The clip was recorded by the Fitzrovia Partnership, a group representing businesses in London. The partnership said it worked closely with the police.