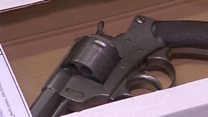 Video
Guns supplied to gangs by disgraced firearms dealer revealed
West Midlands Police has allowed cameras to film an extensive haul of antique firearms and home-made bullets supplied to gangs by a firearms dealer.
Paul Edmunds, 65, of Hardwicke, Gloucestershire, was found guilty by a jury at Birmingham Crown Court of supplying illegal firearms and ammunition linked to more than 100 crimes, including murders.
The court heard West Midlands Police had noticed an increase in the use of pre-war handguns - for which bullets were no longer commercially produced - from crime scenes, including fatal shootings.
Det Con Phil Rodgers, of the regional serious organised crime unit, said Edmunds had imported guns and falsely declared them as antiques.