Media player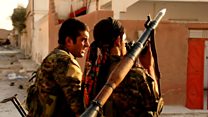 Media playback is unsupported on your device
Video
Bournemouth IT worker speaks about his fight against IS
The fight to drive so-called Islamic State (IS) from its last major stronghold in Syria is in its final phase, and a man from Dorset is in the heart of the battle.
Jac Holmes is with a small group of other Europeans fighting in a sniper unit in the rubble of Raqqa.
He worked in IT in Bournemouth until January 2015 when he went to Syria to fight against IS, defying government attempts to discourage Britons from joining the war.