Media player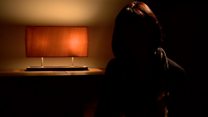 Media playback is unsupported on your device
Video
Young alcoholics cases on rise, survey shows
A growing number of young people are seeking help for alcohol addiction, Alcoholics Anonymous says.
One in three of those aged under 40 at AA are less than five years sober, a survey by the organisation showed.
It has prompted the AA to change how it works with younger members – including appointing a Young Person's Liaison Officer and providing more online services.
BBC News spoke anonymously to three young people about their addiction and how they are recovering with AA.
Contact the AA helpline on 0800 9177 650.