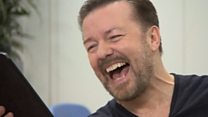 Video
Ricky Gervais reacts to David Brent fans' Facebook jokes
Ricky Gervais has reacted with hysterics to a Facebook group set up in homage to his cringeworthy character David Brent.
The BBC showed the actor an example of some of the laughs fans were having at the socially-awkward Slough company manager online.
The page is entitled, Do You Not Know Who Eric Hitchmough Is, after a quote from the series about a character who never appears on screen.
Fans post pictures, videos and news stories which play on scenes from The Office TV series and Life on the Road movie.
"I am just knocked out at how funny some of these things are," said Gervais.
Video producer: Jen Meierhans