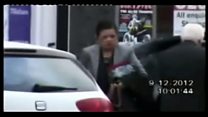 Video
Pastor Stephanie Meakin filmed running despite claiming disability allowances
A pastor who dishonestly claimed £37,000 in benefits because she was in "crippling pain" danced the Hokey Cokey at a church Christmas party, a court heard.
Stephanie Meakin, from Springwell Close, Crewe, was secretly filmed by investigators walking in heels and running to a bank.
She legitimately began receiving Disability Living Allowance in 1995 due to severe back pain but when it had significantly improved in 2001, she did not notify relevant authorities, Liverpool Crown Court heard.
She lied about her mobility for 11 years.
Meakin denied a charge of failing to notify the Department of Work and Pensions about a change in circumstances.
Recorder Mary Loram said she was a "thoroughly dishonest woman" and sentenced her to 15 months in prison suspended for a year.