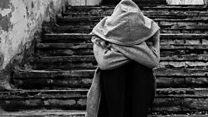 Video
'He gave me drugs and I thought he loved me'
Eleven per cent of women and 3% of men aged 16 to 59 said they had been sexually abused as child in the crime survey from the Office of National Statistics.
The University of York and the charity Basis Yorkshire are launching a new animation video which details the lives of real victims of child sexual exploitation. The objective of the video is to help those who've experienced sexual abuse and to show them victims who have managed to move on from what happened to them.
The Today programme's Sima Kotecha has spoken to two 17-year-old girls who were groomed by older men over the past couple of years. This is their experience.