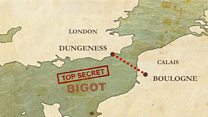 Video
An undersea pipeline that helped the Allies win WW2 was designed and made in Corby.
When Allied generals planned the land invasion of Europe they faced a number of major problems, not least how to transport all the fuel they needed across the Channel.
The answer came thanks to experts in Corby. They were able to design a steel pipeline both strong and flexible enough to be rolled across the seabed to France to carry all the fuel needed for the invasion force.
Today, tubes made in Corby, using the innovations developed for the fuel pipe, are part of the structure of some of the world's most iconic buildings.
You can see more on this story on Inside Out on BBC1 in the East on Monday, 3 October at 19:30 BST.