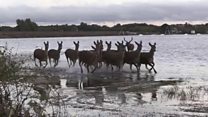 Video
Wildlife expert captures deer and stag mating ritual
A wildlife expert has captured deer and a stag running through a reservoir at the start of their mating ritual.
Dr Jochen Langbein was working on a deer protection project when he filmed the animals at Chasewater, Staffordshire on Tuesday.
Dr Langbein, who lives in Somerset where he runs Langbein Wildlife Ecological Consultants, encountered them because he had delayed his return home to avoid rush-hour traffic.
He said: "It was filmed as the rut begins. Here, as in many country parks and forests, it is important for people watching and photographing the rut of red, fallow and sika deer at this time of year to do so at a distance."