Media player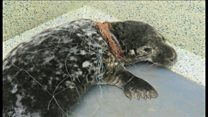 Media playback is unsupported on your device
Video
'Ghost' fishing gear threat to animals in Devon and Cornwall
The threat to marine mammals from so-called 'ghost' fishing nets is being highlighted in a new report.
Fifty tonnes of discarded, lost or abandoned nets, some from as far as Canada, were found around the coast of Devon and Cornwall.
It can be fatal to seals and other marine wildlife which get entangled in the mesh, the Cornwall Seal Group said.
Fishermen said they collect hundreds of tonnes of discarded items every year.
More on the 'ghost fishing gear' being a threat to seals, and other news from Devon and Cornwall