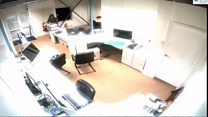 Video
Police "too busy" to attend Brierley Hill burglary, businessman says.
A Brierley Hill businessman says he watched on a computer at home via CCTV while his company was being raided, after police said they were "too busy" to come out.
Thieves took computer equipment worth nearly £20,000 as Paul Smart watched two break-ins monitored in real-time by the company's security firm.
The businessman, who lives in Worcestershire, first rang his local force West Mercia Police about the raid at Doodah Creative Ltd in Brierley Hill, West Midlands.
He said he was instead told to call West Midlands Police on 101 and a call handler said the force was "too busy" to attend.
This video has no sound.