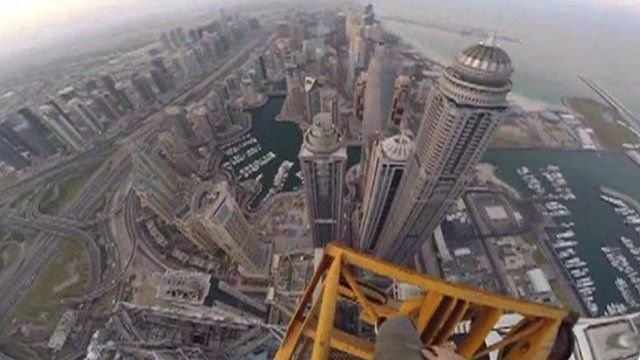 Video
Free-runner James Kingston posts Dubai Marina 101 footage
A British free-runner has posted footage of him climbing what is set to be one of the world's tallest skyscrapers.
James Kingston, 25, from Southampton, filmed as he scaled the Marina 101 in Dubai, making it to the top of a crane, apparently without permission and safety equipment.
He posted the video on YouTube, describing it as the "slipperiest crane I've ever been on" and said it had been his highest climb to date.
The building, currently under construction, will be 426.5m-tall (1,399ft) when complete and will contain more than 500 apartments and 281 hotel rooms.
The 25-year-old achieved notoriety when footage of him hanging from a crane in Southampton in 2013 went viral. In 2015 he posted footage of him climbing through the Eiffel Tower and has also climbed the arch of Wembley Stadium, with permission.
Go to next video: Free runner posts Eiffel Tower video