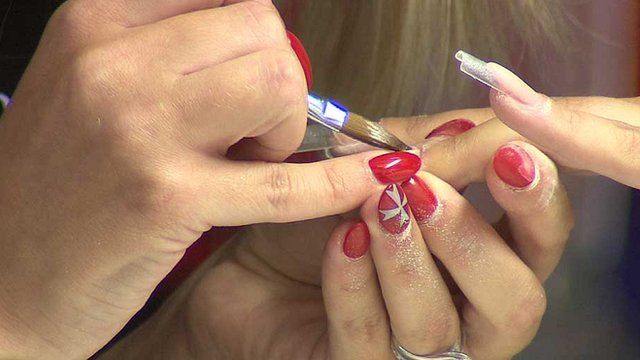 Video
How safe is your manicure?
The nail industry is booming in the UK, but there are growing concerns about safety in some budget salons which use a strong chemical glue to bond nail extensions.
BBC Inside Out has discovered that many budget nail salons are using methyl methacrylate (MMA) which can cause permanent nail damage and severe allergic reactions.
MMA is banned in the United States of America but is not currently illegal in the UK.
When reporter Amy Harris visited one nail bar for an undercover manicure she was told they did not use MMA. But when the air sample was tested at the University of Leicester's laboratories, she discovered MMA had been used.
Health experts and Trading Standards are calling for better regulation of the nail industry to deal with concerns about MMA.
Inside Out is broadcast on BBC One East Midlands at 19:30 GMT on Monday, 12 January and nationwide on the iPlayer for 30 days thereafter.