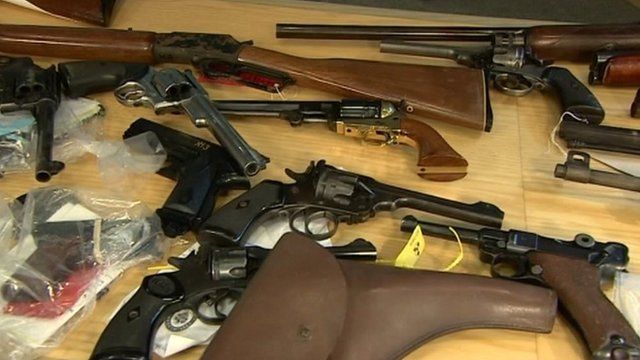 Video
West Mercia and Warwickshire start gun surrender
A gun surrender has begun across parts of the West Midlands.
People can hand firearms and ammunition in at police stations in Warwickshire, Herefordshire, Worcestershire and Shropshire.
The two-week surrender follows a change in the law to increase the maximum jail sentence for possession of a firearm from 10 years to life. The law also includes antique weapons.
Gunsmith Richard Pope said criminals were unlikely to hand weapons in.
Warwickshire and West Mercia forces, however, said there was a fear older weapons could fall into criminal hands and urged collectors to hand them over.
Supt Charles Hill, from West Mercia Police, said people did not have to give their details, but police would conduct ballistics checks on weapons thought to be involved in crimes.
A similar scheme run by West Midlands Police in August resulted in more than 130 weapons being recovered.
Go to next video: Police say guns haul 'a success'