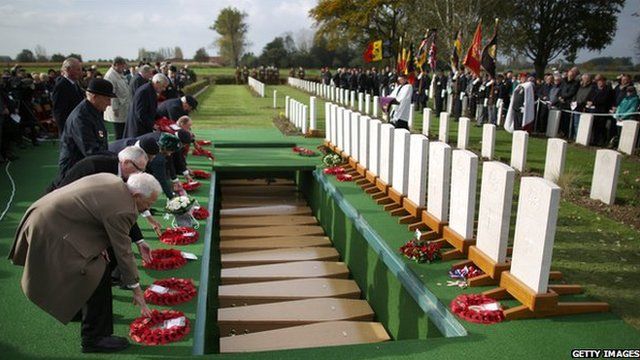 Video
Lancaster soldier's remains reinterred
The remains of a Lancaster soldier who became one of four brothers to die fighting in World War One have been reinterred in northern France, 100 years after he was killed in battle.
William Butterworth was 36 when he was killed fighting for the 2nd Battalion of the York and Lancaster Regiment.
He and the remains of 14 other British soldiers were found during drainage work in 2009, close to the village of Beaucamps-Ligny near Lille.
The regiment drew mainly from northern England but also included men born in Surrey, Dorset and Nottingham.
The soldiers were reburied with full military honours at a Commonwealth War Graves Commission cemetery in Bois-Grenier near Lille.
They died in battle on 18 October 1914. DNA samples were used to identify 11 of the men.