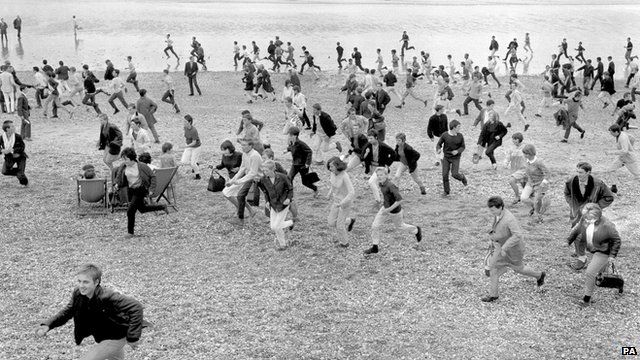 Video
Mods and rockers riots revisited 50 years on
Fifty years after the clashes of 1964 between mods and rockers at the seaside resorts of Hastings, Margate, Clacton and Brighton, Phil Daniels attempts to separate fact from fiction.
BBC TV programme Mods and Rockers Rebooted takes those who were there at the time back to the coastal resorts where the clashes took place.
Former policeman and rocker Ken German recalls how the Margate riots kicked off and reflects on the sentences handed out to those convicted.
Mod Tony Edwards remembers how the two groups clashed on the beach. Rocker Ray Beere likens the dramatic scenes on the north Kent coast to the Battle of Agincourt.
But were the clashes really as bad as the newspapers and some commentators made out?
Credits: Archive footage is courtesy and copyright of British Pathe.
Mods and Rockers Rebooted is broadcast on Friday, 22 August 2014 on BBC One South East, South and East at 19:30 BST. It will also be available on the iPlayer nationwide for seven days thereafter.