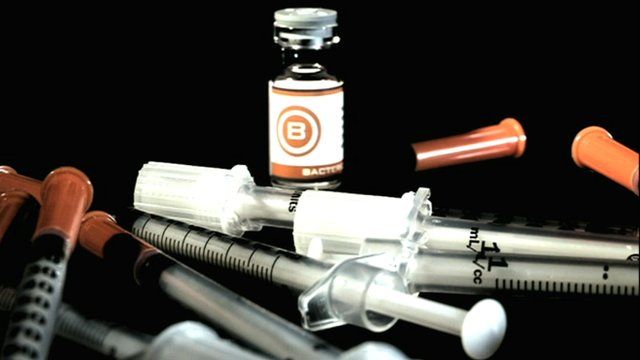 Video
Potential dangers of illegal tanning injections
Inside Out investigates the extreme measures some people are willing to go to for a year-round tan.
While health warnings about sun beds are well publicised, the search for a constant tan has led some consumers to use tanning injections.
Reporter Dianne Oxberry discovers how injections with the unlicensed medicine melanotan are becoming increasingly popular.
The product is illegal to sell but not to use. It is available under the counter at some gyms and beauty salons, and on the internet.
Inside Out meets Ryan Ruckledge, a self-confessed tanning addict from Blackpool, who is still using the injections despite his concerns about the health side-effects.
We also talk to Chris and Mark Johnson White from Liverpool who stopped using tanning injections after experiencing nausea, loss of appetite, changes in skin pigmentation and the development of moles.
Jim McVeigh, deputy director at the Centre for Public Health at Liverpool John Moores University, says it is unclear what the products contain and how they are being controlled.
Inside Out North West is broadcast on Monday, 13 January at 19:30 GMT on BBC One and nationwide for seven days thereafter on the iPlayer.