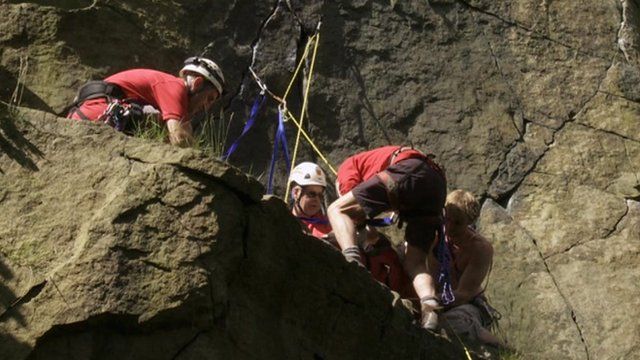 Video
Emergency services rescue climber from 'Hell Hole'
The Yorkshire Air Ambulance and the Calder Valley Mountain Rescue Team combined forces to rescue a climber who fell down 'Hell Hole' at Hepstonstall Quarry near Hebden Bridge.
The Hell Hole attracts thousands of rock climbers every year and is so named because of its sheer and clean rock faces which plunge over 100 feet into the Calder Valley.
Twenty-six-year-old Joe Lofthouse from Halifax lost his footing and plunged 30 feet down a cliff during a climb.
Yorkshire Air Ambulance's Helimed 99 was scrambled to this remote location working closely with the Calder Valley Mountain Rescue Team to rescue the climber and transport him to Leeds General Infirmary.
Helicopter Heroes was broadcast on BBC One Daytime on Wednesday, 11 December at 11:30 GMT.