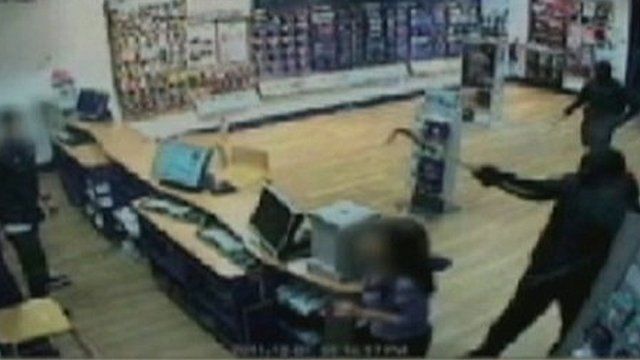 Video
CCTV shows mobile phone shop robbery taking place
CCTV footage shows the moment a robbery was carried out at a mobile phone shop in Berkshire.
At Winchester Crown Court, Stuart Last, 29, Richard Loveridge, 28, and Andrew Smith, 27, were found guilty of conspiracy to commit robbery.
Security camera footage from December 2011 shows terrified staff at the Carphone Warehouse store in Earley, Reading, as the raiders take more than £30,000 in stock and cash.
About £240,000 was also stolen in cash-in-transit raids when ATMs at banks and building societies in Havant, Fareham and Farnborough were being restocked.
The men were also charged with conspiracy to commit burglary. Andrew Smith was cleared, while Loveridge and Last were convicted.
Lee Fitzgerald, 38, of Perrycroft, Windsor, was cleared of both charges.