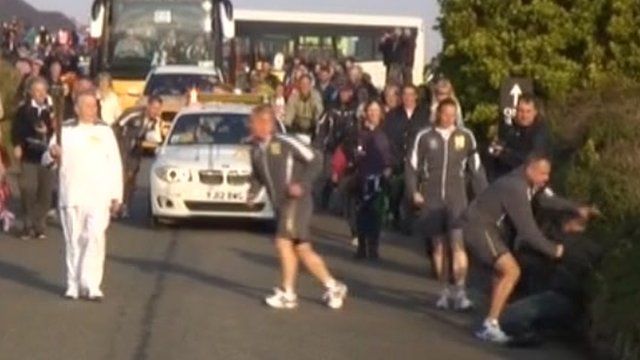 Video
Olympic torch tackle man near Land's End
Police officers on the Olympic torch route tackled a man they thought was attempting to reach one of the torchbearers.
The Metropolitan Police, whose officers are guarding the torch on the relay and are wearing grey running gear, said no-one was allowed "within the security envelope".
A spokesman said: "We can confirm officers from the Met's Olympic Torch Team took action to prevent a man from gaining access to the torch bearer close to Land's End.
"We would like to remind members of the public not to attempt to breach the security envelope. This is as much for their own safety as for the torchbearer's as the torch relay is a moving convoy (of motor vehicles)."
The Olympic flame left Land's End on Saturday morning embarking on a 70-day tour of the UK in the run-up to the London 2012 Games.
Go to next video: Huge crowds greet Olympic torch