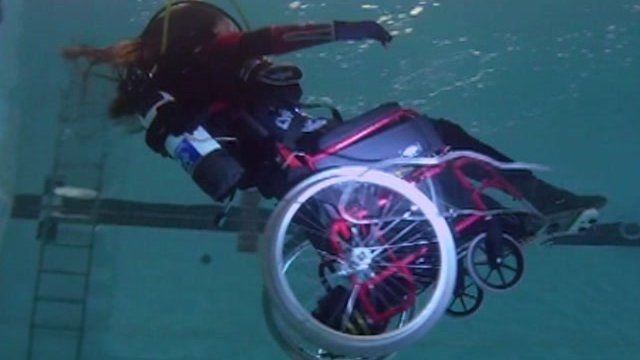 Video
London 2012: Wheelchair ballet performer Sue Austin underwater
A disabled north Devon woman is preparing for a London 2012 Cultural Olympiad performance, using her specially-adapted wheelchair to perform underwater ballet.
Sue Austin, a student at the University of Plymouth, is believed to be the world's first underwater acrobat in a wheelchair.
She will be performing in Weymouth and Portland during the Olympic celebrations later this year.
The chair is powered by two motors and Ms Austin steers the wheelchair by operating two plastic "wings" either side of the chair.
Ms Austin has been in a wheelchair since she developed ME in 1996.
She said: "This work is about showing that in spite of working with mental and physical limitations, it is still possible if you have a passion about something to transcend those issues."
Sue Austin is appearing on Inside Out, BBC One, 19:30 GMT on 5 March 2012.