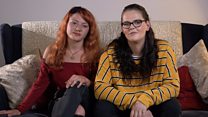 Video
Gender Recognition Act: Women from both sides of debate feel silenced
The consultation on changes to the Gender Recognition Act has been open since July.
The government wants to make it easier for trans people to get "legal recognition".
But has it been a balanced public debate? Who has had a voice?
Feminists meeting to talk about the issues have faced protests and venue cancellations, and many say they have faced abuse on social media.
Meanwhile some trans advocates say it's transphobic to debate gender identities. Here, two people with a stake in the conversation come together to discuss how they feel.
Read more: Should trans women be allowed to use women-only services?
Go to next video: Who, or what, defines you as a woman?