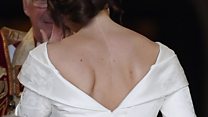 Video
Princess Eugenie's dress showed off her scoliosis scar
Princess Eugenie married Jack Brooksbank in front of hundreds of guests at Windsor Castle.
One of those watching on was 14-year-old Georgie Van Dyke, who had received a handwritten invitation. Like the Princess, Georgie has undergone surgery for scoliosis, which has left her with a sizeable scar on her back.
Princess Eugenie chose to wear a wedding dress which showed off her scar, which Georgie says was an "inspirational thing to do".
"I was really hoping she'd wear an open back dress. She really proved that the scar is something to be proud of and not something to hide away and cover up".
This clip is originally from 5 Live Drive on 12 October 2018.
Go to next video: Who is Princess Eugenie?