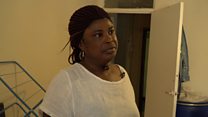 Video
'I feel scared in my collapse-risk flat'
Families living in a north London block of flats judged to be at risk of collapse have told the Victoria Derbyshire programme they are living in fear.
Eighty-seven households have been told to leave by the end of October, but only 19 have accepted accommodation elsewhere.
Checks after the Grenfell Tower fire found parts of the Tangmere block could fall if there was a gas explosion.
Haringey Council said it was working with residents "to find homes that worked for them".
A spokeswoman added that a number of additional safety measures had been put in place "to reduce an already very low risk".
Watch the BBC's Victoria Derbyshire programme on weekdays between 09:00 and 11:00 BST on BBC Two and the BBC News Channel in the UK and on iPlayer afterwards.