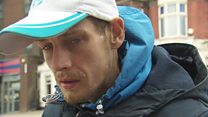 Video
Monkey dust: 'I hate that I'm addicted'
It has led people to jump off buildings, bite others and run into people's homes. Now police say it is only a matter of time before someone dies as the result of "monkey dust" - a synthetic drug rising in popularity in the West Midlands.
One man, who gave his name as Smithy, has been using it for over a year - but wishes he was not addicted.
The Home Office said its drug strategy "sets out a balanced approach which brings together police, health, community and global partners to tackle the illicit drug trade, protect the most vulnerable and help those with a drug dependency to recover and turn their lives around".
Watch the BBC's Victoria Derbyshire programme on weekdays between 09:00 and 11:00 BST on BBC Two and the BBC News Channel in the UK and on iPlayer afterwards.